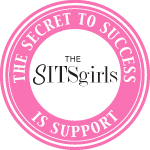 I'm very excited that today is my day as a featured blogger over at the
SITS Girls
! For those of you who haven't heard of it,
SITS Girls
is an awesome community of women bloggers. They have forums, a fabulous
Facebook page
, and TONS of great articles and resources on their website. I have learned so much and met some really great bloggers too :)
Now that you're here, I want to say hello and introduce myself properly!
Hi there! I'm Moira :)
I hope you get a chance to look around my little corner of the internet. You'll find yummy things to eat, great books, and the occasional musing on motherhood.
My family and I just moved back to New England (Connecticut, to be precise) from Oklahoma so my posting schedule is a little off while I unpack boxes and get organized. I can't wait to share more pictures of our new house, and really get cooking in my new kitchen!
Usually you can find me posting on Monday, Wednesday and Friday on the blog. Sometimes these cuties even make an appearance!
I love to connect with readers and bloggers on social media too. You can find me here:
Facebook
Twitter
Instagram
Pinterest
Goodreads
Google Plus
Thanks for stopping by! I hope to see you again soon :)
And a special thanks to my regular readers too-I'm so glad you're here! You make me smile every day!