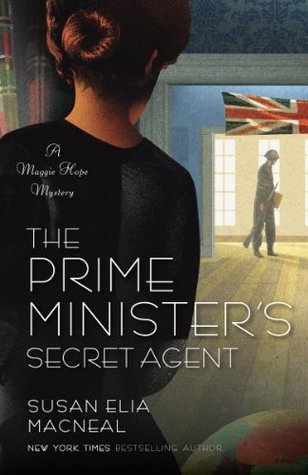 This is the fourth title in the
Maggie Hope mystery series
by Susan Elia MacNeal. I devoured the previous three books, and this one was no exception.
Prime Minister's Secret Agent
finds Maggie teaching new recruits to the ranks of British spies at Arisaig House in Scotland. The estate becomes her refuge and a hiding place as she battles the physical and emotional injuries from her mission to Berlin.
Her former roommate Sarah arrives in Edinburgh with her dance company, and Maggie reluctantly leaves the safety of Arisaig to see the performance. As the curtain falls, one ballerina is murdered and two more, including Sarah, fall ill. Maggie must overcome her depression and race against the clock to save her friend, helped by MI-5 agent Mark Standish. What they uncover changes the way Maggie views the war, and highlights how dire the situation was for the British in 1941.
MacNeal skillfully interweaves the murder investigation with the diplomatic tensions in Washington DC and London as well as revelations about Maggie's mother. The intelligence communities on both sides of the Atlantic are gathering evidence of a possible Japanese threat to Hawaii, while the Ambassadors in DC are desperately trying to maintain peace. The plots all come together as December 7th nears.
Maggie's world expands and develops further in each book, and highlights part of World War II that isn't often seen. The technologies of code-breaking and espionage are fascinating, and the history lover in me is grateful for the suggested reading list at the end of the book.
I also particularly liked the contrast MacNeal shows between Edinburgh and London, both cities at war but with remarkably different day-to-day experiences. The difference is especially poignant after Maggie's experience in Berlin in the previous books. There is no glorification of war in this series. Instead you get a glimpse into the determination and humanity of the people fighting. These are not storybook heroes, but ordinary (if very intelligent) people put into extraordinary situations, doing their best to navigate the tricky morals of a world at war.
For those new to this series, begin with
Mr. Churchill's Secretary
, where Maggie changes her plans of a PhD in Mathematics to join the war effort in London as a typist at No. 10 Downing St. Following this book are
Princess Elizabeth's Spy
, and
His Majesty's Hope
. You can find Susan Elia MacNeal on
Twitter
and blogging at
Jungle Red Writers
.
I received a copy of The Prime Minister's Secret Agent for review through NetGalley. All opinions are my own. This review contains some affiliate links.