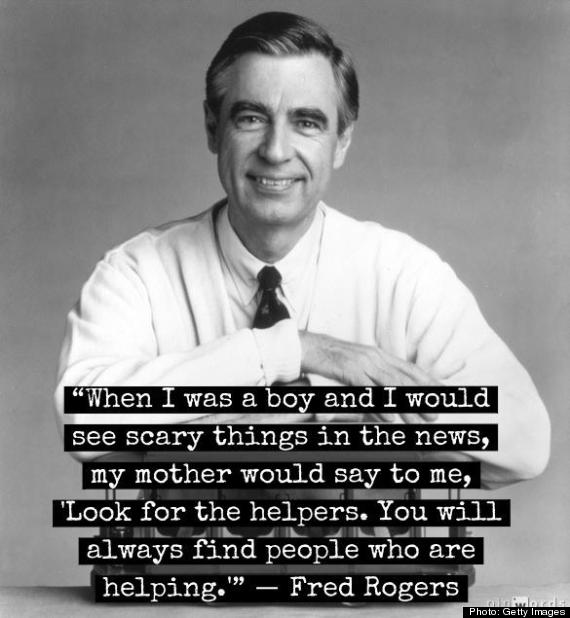 image credit:
Huffington Post
I'm sure many of you saw the above image when the tragedies at the Boston Marathon and Newtown, CT happened. It stuck in my mind as a way to help not just children deal with the trauma of these heartbreaking events but also adults. I find it really helpful to give my mind a place to look for hope and kindness in the midst of chaos or destruction.
Yesterday's tornado was gut-wrenching. The storms missed us here in southwest Oklahoma. It was hot and sunny and that made it feel really disjointed watching the news from two hours away. We've been here long enough and traveled to OKC enough that we recognized places the news was talking about, and knew what it looked like before the storm. Tornados really throw me-it's one thing to deal with hurricanes or blizzards. You get warnings about those. Something that drops from the sky with minutes to take cover and can destroy a home in a moment? Not ok, Mother Nature.
So let's look for the helpers. The Red Cross moving into action. The First Responders and Emergency Management teams. The friends, neighbors, churches opening up homes, donating food, clothes, everything.
I am in awe of the power of people who want to help.
Oklahoma may not be our home for more than a few years, but she has welcomed us with open arms. I might miss my sushi restaurants or disagree with some of the politics, but I love that people here embody all the good parts of small town life.
If you would like to help, here are some ways you can do it.
The
Red Cross of Oklahoma City
Send a text to 90999 with the message REDCROSS will donate $10 for disaster recovery.
OKC News Channel KOCO has
this list
of ways to help and shelters if you are in need of help.
NBC News also put together a
good list of agencies
taking donations who are working on the ground.
If you are local to Altus, there are LOTS of groups gathering water and other supplies today. Please consider donating something. Here are just a few...if you know of others, please feel free to add them in the comments and I'll update the post.
Altus Christian Academy is collecting cases of water during the school day.
Altus AFB Thrift Shop
(run by the Altus Spouses Club) is collecting supplies to take to Moore this afternoon. They are looking for diapers, wipes, formula, water, work gloves, pet supplies. No clothes please.
Family Life Church on Falcon Rd. is accepting donations as well-they are looking for the same thing as the Thrift Shop.
Stay safe friends!!