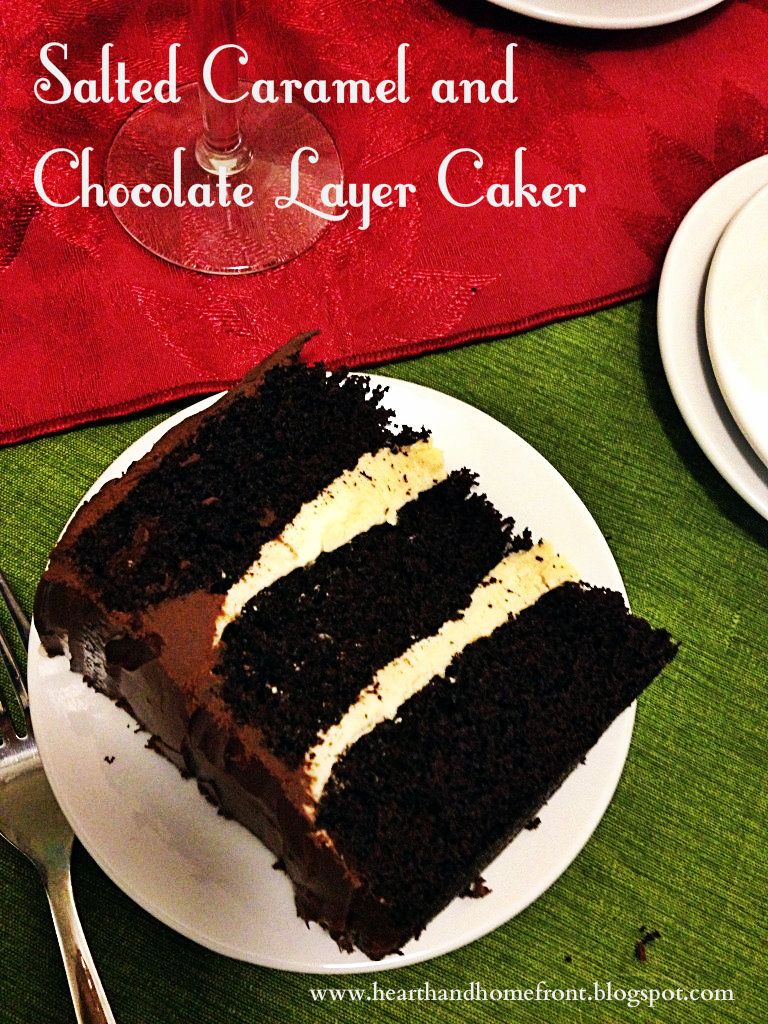 This is an occasion cake. It deserves pomp and circumstance and at least a few people to ooh and ahh as you cut into it. I've been waiting for an excuse to make it ever since I saw it on
Annie's Eats
last year and when I was put in charge of dessert on Christmas day I knew exactly what I was making.
You begin with a dark chocolate cake that is delicate and tender. Layer it with a lightly salted caramel buttercream and then cover the whole thing with a dark chocolate frosting. It's rich, yes, but so worth it.
The original recipe uses homemade caramel sauce to add into the swiss meringue buttercream and while delicious done that way, this time I used a store-bought caramel sauce (like
this one
from Trader Joe's found on Amazon). To cut down on the prep time and difficulty level, I changed the recipe to include that. If you prefer homemade, Annie will
walk you through it
.
Start thinking of an occasion. This cake is worth it.
Salted Caramel and Chocolate Layer Cake
For the cake:
2 1/4 c. flour
2 1/4 c. sugar
1 c plus 2 tbsp unsweetened cocoa powder
2 1/4 tsp baking soda
1 1/2 tsp baking powder
1 1/2 tsp salt
6 tbsp vegetable oil
1 c plus 2 tbsp buttermilk
1 c plus 2 1tbsp brewed coffee
3 eggs at room temperature
1 tbsp. vanilla extract
For the filling:
1/4 c salted caramel sauce (or add a large pinch of fluer de del to plain caramel sauce)
1/4 c plus 2 tbsp sugar
4 egg whites
1 1/2 c unsalted butter, room temperature
For the frosting:
12 oz semisweet chocolate, chopped
1/4 c unsweetened cocoa powder
1/4 c hot water
1 c plus 2 tbsp unsalted butter at room temperature
1/3 c plus 1 tbsp confectioners' sugar
pinch of salt
Fleur de sel, for sprinkling on top
For the cake:
Preheat the oven to 350 degrees. Grease three 8-inch round cake pans. Using an electric mixer on low, mix flour, cocoa powder, baking soda, baking powder and salt. Pour in the liquids (vegetable oil, buttermilk, coffee, eggs, vanilla) and combine completely. Split the batter evenly between the three pans and bake at 350 for 20-25 minutes, when a tester in the center comes out clean. Cool in pan for 15 minutes and then turn out onto a cooling rack to finish cooling.
For the filling:
Pour egg whites and sugar into a heatproof bowl (metal or glass) on top of a pan of simmering water. Whisk while it heats until the sugar is dissolved and the liquid reaches 160 degrees. Pour liquid into the bowl of a stand mixer and whisk at medium speed until stiff peaks appear and the mixture is cool. (Annie said this would be about 8 minutes, but it was closer to 10-12 for me) Add butter two tablespoons at a time until thoroughly combined. If it looks curdled DON'T WORRY. Just keep mixing until it is smooth again. Despite warnings I was sure I had ruined it but after a few minutes of mixing it came together smoothly again. Once fluffy and smooth, pour in the caramel sauce and mix together.
For the frosting:
Melt the chocolate in a heatproof bowl over simmering water. Once smooth set aside and let cool. In a bowl, stir together the cocoa powder and hot water. Add the butter, confectioners' sugar and salt into the bowl of your stand mixer and mix on medium speed. Add in the melted chocolate until thoroughly combined and then the cocoa mixture and mix until smooth.
To assemble the cake:
Level any of the cake layers that need it. Place one layer on the plate or platter you will serve it on. Top this layer with half of the buttercream and smooth. Place the second cake on top of this and cover that with buttercream as well. Put the last cake on top of that layer of buttercream. Using the chocolate frosting, cover the sides and top and create a smooth finish with an offset spatula. Sprinkle fleur de sel around the outside edge of the top of the cake.