Who watched the Super Bowl? We got together with a few friends to eat and watch the game. While I don't dislike the typical "football party" foods, I don't get as excited preparing them as I do the dessert. It was basically the same thing I felt about the teams in the game this year. We have lived near both teams, and in fact the only NFL game I have ever been to was in the Ravens stadium, but I didn't particularly care who won. I was just looking forward to relaxing, watching (hopefully) funny commercials and eating this cake.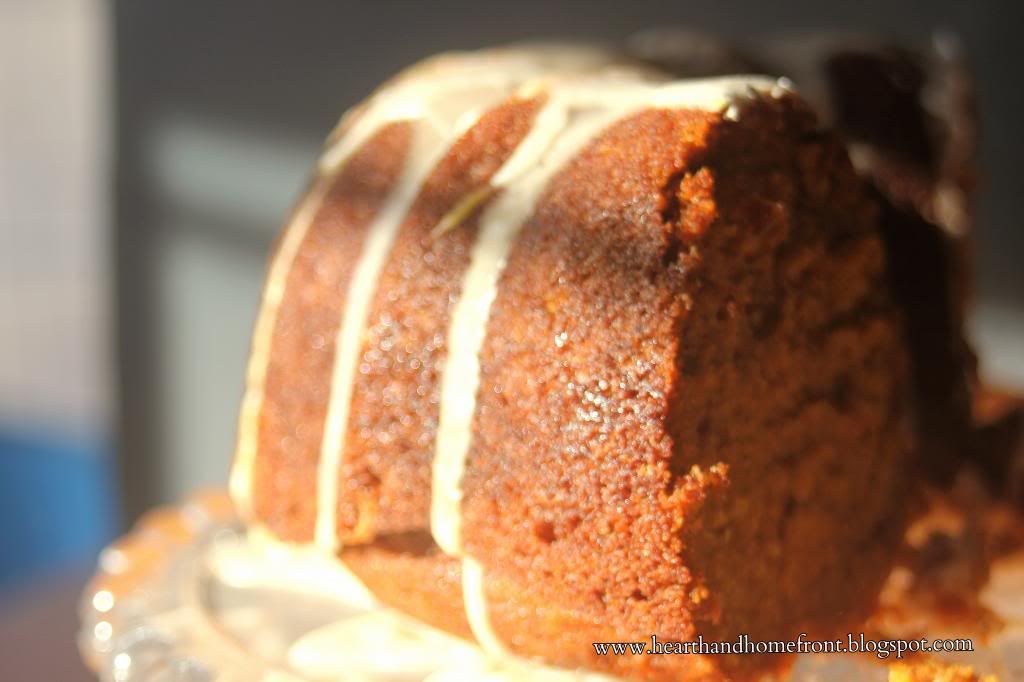 I know that it's February, so I should be posting red and pink desserts like any self-respecting food blogger, but we have plenty of time for that before Valentine's day. For today, just put those pink frosted cookies to the side and remember how good pumpkin tastes. This recipe is from the
Joy the Baker Cookboo
k. Joy is one of the food blogs I have been reading the longest, and I still look forward to reading her posts every day. I hope that several years down the road I'll still be writing things people want to read...even if it's just my family reading.
This is one of those cookbooks where I dogeared at least half of the recipes on my first read-through and every single one that I have made has been a hit.
The cake feels like a slightly fancier version of pumpkin bread. It's not quite as dense, but has that nice earthy quality that satiates you and doesn't make you feel horribly guilty about what you've just eaten. Thanks to the pumpkin it also keeps beautifully. That is if you have any left to keep.
I made the cinnamon glaze thinner than in the original recipe, because I didn't want it to feel like a thick frosting. I used milk instead of the heavy cream and it created just the effect I was looking for. If you'd prefer a thicker glaze that doesn't drizzle, use the original heavy cream and add it in slowly until you get the consistency that you want.
Pumpkin Bundt Cake with Cinnamon Glaze
barely adapted from
Joy the Baker Cookbook
Cake:
2 c sugar
2 c flour
2 tsp baking powder
2 tsp baking soda
1/4 tsp salt
2 tsp cinnamon
1/2 tsp ground cloves
1/2 tsp ground nutmeg
1/2 tsp ground ginger
1 c vegetable oil
1/4 c buttermilk
1 tsp vanilla extract
1 15 oz can pumpkin puree
4 eggs
Glaze
2 1/2 c powdered sugar
1 tsp cinnamon
6 tbsp milk (or heavy cream if you want a thicker consistency)
Preheat oven to 350 degrees. Spray a bundt pan with nonstick spray.
For the cake, add the dry ingredients (sugar to ginger on the ingredients list above) to a large bowl and whisk together. In another bowl whisk the liquids together, and then add the eggs in one at a time. Pour the wet ingredients into the mix of dry ingredients and fold together.
Pour into the bundt pan and bake for 1 hour or until a tester comes out clean. Let cool in the pan for 20-30 minutes and then turn over and carefully place the cake on a plate to finish cooling.
For the glaze, whisk sugar and cinnamon together and then slowly pour in the milk until the mixture is at the consistency you desire. When cake is completely cool, pour the glaze over the cake and serve.