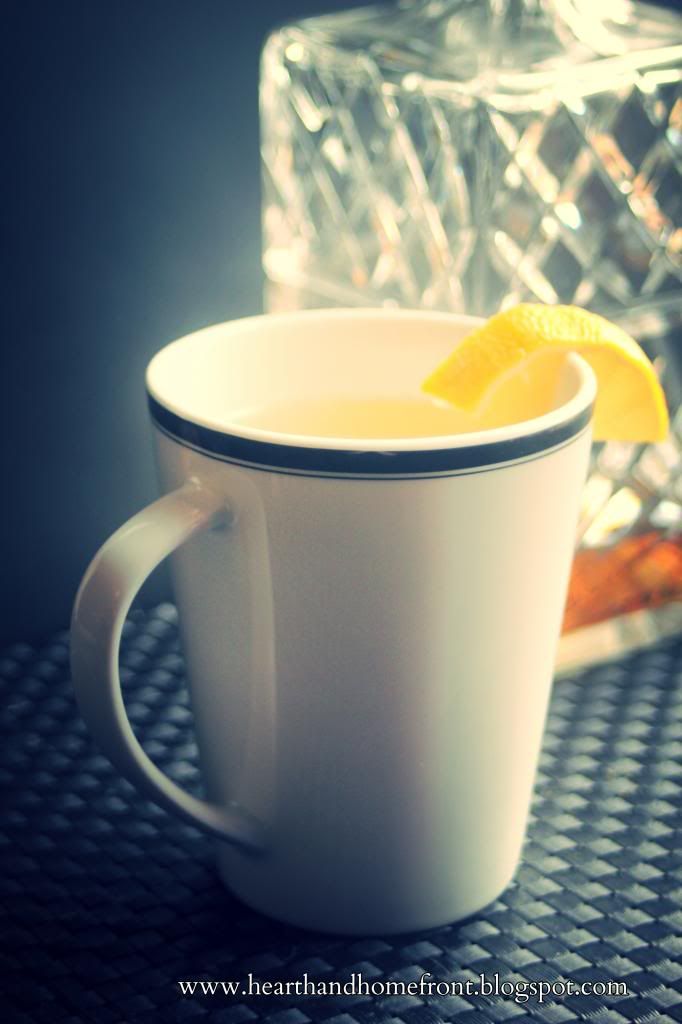 Oklahoma allergies are no joke. We have lived on all over this country and I know more people who have had to go on allergy medicine here than anywhere else (me included)! I'm fighting something off so this week I'm trying to take extra good care of myself. I hit up a yoga class yesterday, and made some smoothies to sneak some extra nutrients in. Tonight my husband is actually working a normal workday so we have exciting plans to lounge around in sweatpants and catch up on Top Chef once the kiddos are in bed. The only thing that will make that a better picture is a hot toddy for each of us.
I've been seeing hot toddy recipes for years, but it took a while before I found the combination that I love. Some people use a lemon slice instead of lemon juice, or a ginger tea as a base instead of the hot water. I've tried those methods, and they are good, but this is the one that I crave when I start to feel yucky. It's so soothing that sometimes I'll make one after a particularly emotionally draining day and it gives me the same comforting pickup that it does on the days that I'm sick. The best part about this recipe is that you can tweak it until it reaches just the right combination for you. After you make it a few times, you won't even have to measure the ingredients. For a little extra boost against those local allergies try using a local honey!
Hot Toddy
2 tbsp honey
3 tbsp whiskey
3 tbsp lemon juice (about 1 lemon)
1 tsp ground ginger
hot water
Pour the honey on the bottom of a mug and stir the ground ginger into it. Add the whiskey and lemon juice and stir. Fill the mug up with hot water and stir quickly until fully combined. Garnish with a lemon slice if you like a little extra kick of lemon.