One of my favorite parts of the military life is how everyone comes together when you need help. Every squadron that we have been a part of has had a committee that brings meals to families in the squadron when they have babies, surgery, or otherwise could just use a helping hand. It was such a relief knowing that each time we brought one of our boys home from the airport that we had some breathing room before we had to worry about how to get a real dinner on the table.
When I make a meal for someone, I like to add in something for breakfast or snacks. After all, it's not just dinner that can be hard to get on the table when you're up with a crying baby at 3 am.
These brown butter blueberry muffins are from
Joy the Baker's cookbook
. I have loved
Joy's blog
for years, and couldn't wait to get my hands on her book. This recipe had shown up on
Shutterbean
as well as
Joy the Baker
before the book arrived and I had my eye on it, but to be honest I'm not usually a blueberry fan. All my boys love them, however, so I gave it a shot. And it was goooood. The brown butter adds a nutty depth to the muffins, and the crumb topping? I didn't realize quite how much I liked crumb toppings until I caught myself eating the leftover crumb straight from the bowl...
Needless to say, these are now my go-to add in when I'm delivering a meal. They are easy to make, and even easier to eat. Give them a try next time you see someone who could use a little help (or just when you need an easy breakfast!)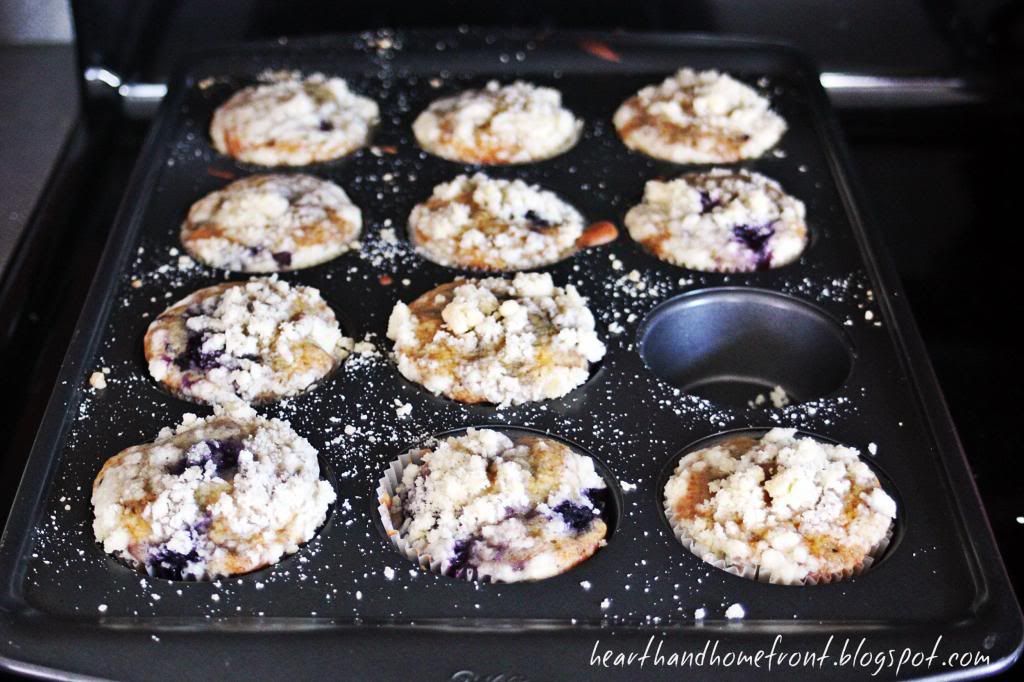 (Notice how I couldn't even wait until I'd taken a picture to eat one?)
Brown Butter Blueberry Muffins
slightly adapted from Joy the Baker
For muffins:
7 Tbsp unsalted butter
1/3 c milk
1 egg
1 egg yolk
1 tsp vanilla extract
1 1/2 c flour
3/4 c granulated sugar
1 1/2 tsp baking powder
3/4 tsp salt
1 3/4 c. blueberries (fresh or frozen, but if frozen, thaw and drain first)
For topping:
3 Tbsp cold butter
1/2 c flour
3 Tbsp sugar
Preheat over to 375 degrees.
Melt the butter in a pan until it starts crackling. At this point it will begin to brown and the odor will begin to smell nutty. Remove from heat and let cool.
Pour milk, egg, egg yolk and vanilla into a bowl and whisk together. Whisk in cooled browned butter.
Put flour, sugar, baking powder and salt into a bowl and whisk those together. Pour the liquids in all at once and stir together. Fold in the blueberries.
Divide mixture evenly into lined muffin pan (expect about 12 muffins).
Mix together all the ingredients for the topping using clean fingers until they reach a crumb consistency. Divide topping between the 12 muffins and bake for 18-20 minutes, or until a tester put into a muffin comes out clean. Cool and serve warm or at room temperature.
Feel free to devour any leftover crumb topping...or not. That might be weird. But it will absolutely be delicious.